Sunday, March 16, "Trumpet Generations"
Doors open at 8, Music starts at 830pm
185 avenue Van Horne
for venue info contact
Craig Pedersen Quartet (Ottawa-Montreal): Craig Pedersen trumpet, Linsey Wellman alto saxophone, Joel Kerr bass, Eric Thibodeau drums.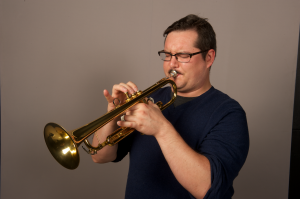 Teachers: Laurie Frink, John McNeil, Louis Ranger (American Brass Quintet, New York Philharmonic, Aspen Festival Orchestra), Karen Donnelly (National Arts Centre Orchestra) and one career changing lesson with Joe Morris.
Influences: Cage, Takemitsu, Zorn, Olivieros, Nate Wooley, JS Bach, Dave Douglas, Mark Rothko, Linsey Wellman, Mark Molnar, Scott Thomson…to name a few.
Current Projects: Craig Pedersen Quartet, It's A Free Country (Pedersen/Kerr duo), solo trumpet. The IMOO Concert Series (Improvising Musicians of Ottawa/Outaouais www.improvisedmoo.com) in Ottawa, and the Musique Musique à La Poêle concert series in Montréal (http://lapoele307.wordpress.com)
What am I working on? Releasing a new Quartet album. A method book of extended techniques for the trumpet (to be published by Hal Leonard/Berklee Press Feb. '05) Writing about my creative process, creative identity and anxiety. Working on developing a personal language that exists somewhere between who I am most easily, and what the trumpet does easily.
On the Side: swimming, walking, cross-country skiing, meditation, reading
I knew I wanted to be play trumpet when: I realized it was the activity I found the hardest.
A Performance Highlight: I recently wrote a new book for my quartet, and and we have taken to playing 1hr 30min power sets. Non-stop, no breaks, and completely exhausting. Each and every one of these has been a highlight for me.
Dream Band: Oh, I think I love my quartet the best.
Did you know? I planted trees for 7 summers in Northern and Interior BC?
[bandcamp width=100% height=120 album=302371386 size=large bgcol=ffffff linkcol=0687f5 tracklist=false artwork=small]